In the installation or business of flexible metal hose serving in works or pipeline projects, technical requirements are an indispensable factor. As a manufacturer of pipe joints, below E-Flex Vietnam will help you understand the technical requirements of flexible metal hose in a specific and clear way.

What is the Technical Requirements of Flexible Metal Hose?
First, you need to understand the concept of "technical requirements" to ensure that the process of working with relevant partners is convenient, fast and standardized.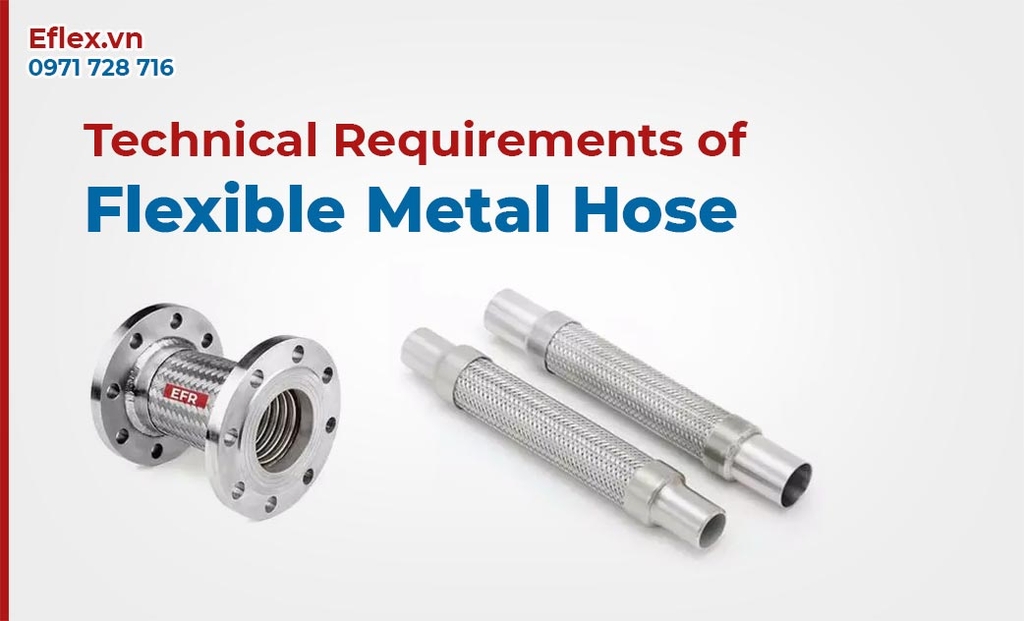 What are the technical requirements? Technical requirements are information including soft copies or paper documents about:
- Pure technical requirements: clearly state the types of goods, standards, specifications, drawings, technical features, catalogs, etc. with accuracy as standards and close to reality.
- Technical requirements for goods supply: clearly state the technical requirements to ensure in the process of transportation, storage, loading and unloading, installation, etc. with accuracy as standard and close to reality .
Based on that definition, depending on the manufacturer or the user unit, they will issue their own detailed technical requirements documents to ensure the ability to work, operate, durability as well as the rights and obligations of the company. warranty, maintenance, transportation, technology transfer.
Tags: flexible metal hose technical requirements, stainless steel anti-vibration pipe technical requirements, flexible metal hose specifications, flexible metal hose specifications.

See technical details of EFR . flexible metal hose
In general, the product will have the following technical requirements:
Technical requirements of flexible metal hose
for production orders:
Technical requirements for production orders include the necessary and sufficient information so that the factory can produce the finished product that matches your prototype. Currently, E-Flex Vietnam is applying the following technical requirements from its customers when they need to order.

❶ . Item number, item of material: provided by your organization.
❷. Product name: flexible metal hose , in addition, there are also names that refer to this product type: stainless steel anti-vibration hose, stainless steel flexible hose, Flexible metal hose (English).
❸. Legit length: measured with a technical ruler from the outermost edge of the two connectors together.
❹. Tube Size (Size):Measured and supplied in units of DN/Inch/ø (usually defined as connector size equivalent).
❺. Connection type (Fitting/connecter): includes the input connector and the output connector. There are many types such as: flange, sprinkler, welding head, .. depending on reality (best attach actual pictures).
❻. Pressure : includes working pressure and test pressure (if necessary).
❼. Temperature: includes working temperature and test temperature (if necessary).
❽. Materials: Recommended materials for pipe bodies, braids, and connectors. Usually 321 stainless steel or 304 stainless steel or 316L stainless steel depending on the medium.
❾. Liquid type:What is the refrigerant used in the pipeline? What kind of acid, what concentration? Drinking water or oil?
. Detailed technical drawings: it is recommended to provide detailed drawings, but usually the user unit usually does not have the type of detailed technical drawings for stainless steel flexible joints.
Please contact E-Flex Vietnam for further advice and to submit your production order request.
Note: the above information should be taken from fact and clearly technical documentation. Ask technical support or take the initiative to measure with professional technical gauges. Avoid giving false, inaccurate, ambiguous, or irregular information.
Technical requirements of flexible metal hose for installation:
Below are the technical requirements of flexible metal hose , the technical requirements of stainless steel anti-vibration pipes for installation, you can refer to:
- Installation manual: may be included in the user manual.
- Installation kit: standard tools for installation are recommended, which are pliers/wrench - wrenches of all sizes...
- Standard of construction materials: type and material of nut, ron,...
- Skill requirements for personnel: What training should the installation staff undergo?
- Conditions for deployment and installation: some products can only be installed when certain conditions are satisfied.
Instructions for Sending Technical Requests to E-Flex Vietnam For Production
In fact, there are many cases where customers are first exposed to the stainless steel anti-vibration flexible hose line, so they can't be thorough about it. Understanding that, E-Flex Vietnam always creates conditions for its customers to express and order the products they need.
The following table will help you to pack and submit your technical request in a simpler and neater way.
FORM OF TECHNICAL REQUIREMENTS FOR PRODUCTION TO E-FLEX VIETNAM:
| | |
| --- | --- |
| Name of goods | Flexible Metal Hose . - Flexible Metal Hose |
| Illustrations | |
| Model | EFR - EFH Series |
| Longs | 2000 MM |
| Pipe material | Stainless Steel SS321 |
| Braided Material | Stainless Steel SS304L |
| Connector | JIS10K RF Flange - JIS10 RF . Loose Flange |
| Connector material | Stainless Steel SS304 |
| Size | DN25 - 1" |
| Working pressure | 10 bar |
| Working temperature | 50 degrees Celsius |
| Use medium | Water |
E-Flex Vietnam is a direct manufacturer and distributor of reliable sflexible metal hose with its factory and office in Ho Chi Minh City. Finished products are 100% tested before being shipped with high perfection and meet international technical standards.
SEND ORDER AND RECEIVE PRICES INOX SOFT COUPONS
---

See details about E-Flex Vietnam